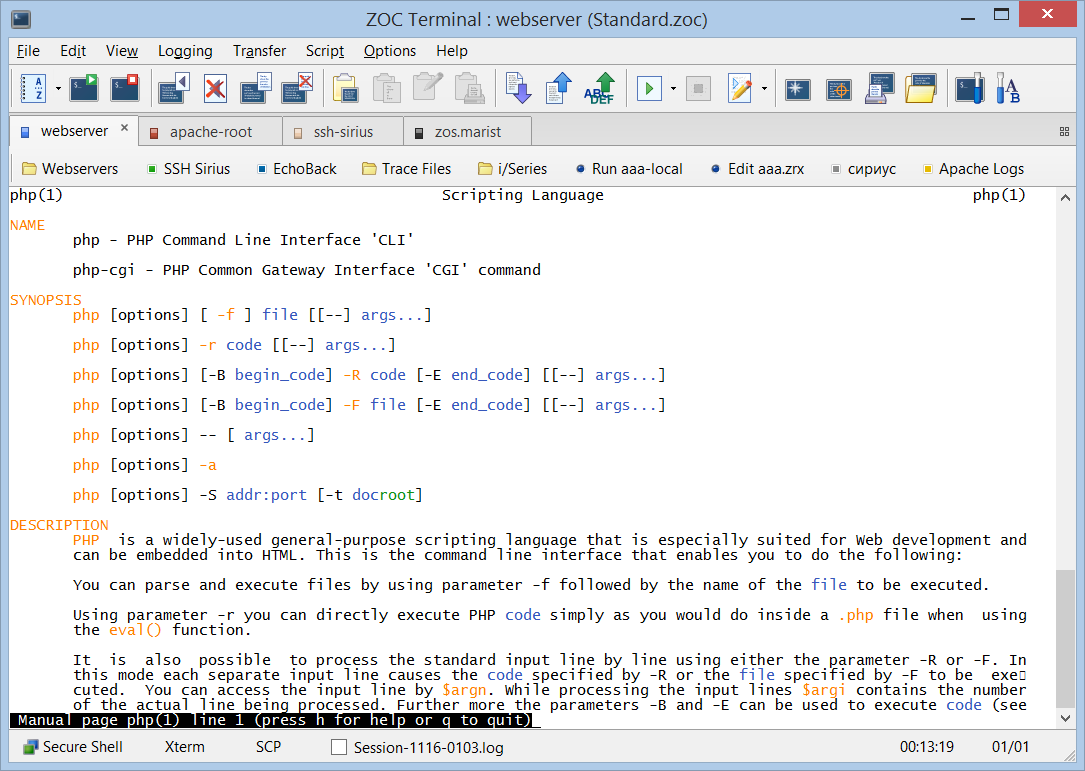 ZOC is a professional SSH/SSH2/telnet client and terminal emulator.

An elegant user interface with tabbed sessions, thumbnail overview, typed command history, scroll back, multiple window support and a wide range of emulations make it the preferred tool for people who access Unix shell accounts from a Windows or Mac OS X platform. Linux administrators will feel like sitting on their native console with ZOC's support for colors, meta-keys and local printing. It is also the essential tool for those who work with the Cisco CLI.

In addition to the above, ZOC features widely used terminal emulations like Xterm, vt102, vt220 and several types of Ansi and not so widely used ones like TN3270, TN5250, Wyse, TVI and Sun's CDE. ZOC also supports major file transfer protocols like X-, Y- and Zmodem as well as Kermit and SCP. All these are offered in rock-solid implementations which leave nothing to be desired.
| | |
| --- | --- |
| Requirements: | 32-bit or 64-bit Windows platform or Mac OS X 10.6 (Intel) or higher. |
| Languages: | English, German |
| Release Info: | Minor Update on May 14, 2019 |
| Release Notes: | V7.23.4: SSH now based on OpenSSH 7.5, various bugs fixed. ZOC V7.xx: New features like draggable tabs, stretchable fonts, auto-highlight, etc. TN3270 and Xterm improvements. Many new options and REXX commands. |
| Related Tags: | SSH Client Telnet VT220 Xterm TN3270 TN5250 Linux SSH Terminal XTerm Wyse TVI ZModem ModemTN3270 3270 CRT CISCO-CLI |
MacroPhone Voice and Fax Server for ISDN 4.22
MacroPhone is a network based application which lets you centralize ISDN based tasks like caller id display, telephone answering machine (voicemail), fax (sending and receiving), call forwarding or call notification (via email or SMS).
MailBell (Email Notify, Spam Blocker) 2.63
MailBell is a utility that checks email on POP3, POP3-SSL, IMAP, IMAP-SSL, MAPI and Gmail-Email accounts. It can notify you of new mail, can detect spam messages and lets you delete mail with large attachments without the need to download it.
PyroBatchFTP Scripted FTP/SFTP/ Transfer 3.22
PyroBatchFTP allows users to automatically exchange files with FTP servers. The program offers an easy to learn yet powerful script language, supports directory and directory-tree transfers, offers a built in scheduler and can be run as a service.