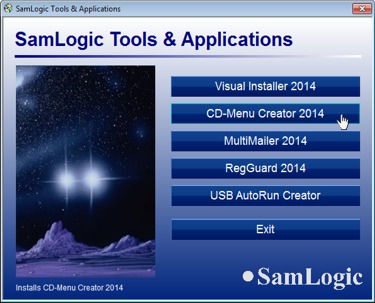 SamLogic CD-Menu Creator is a designer tool that creates impressive autoplay / autorun menu interfaces for CD, DVD and USB flash drives. From these menu interfaces you can execute installation programs, launch applications, view documents, play videos, look at graphics, play Flash animations etc. All kind of document can be opened, for example PDF, Word, RTF, PowerPoint, Excel etc. The most common video formats are supported, for example MPEG, AVI, WMV etc.

The Windows AutoRun technology is used so a menu that is placed on a CD or DVD will be opened automatically when the user inserts the disc in the drive. No programming skills is needed when creating menus with CD-Menu Creator. An easy-to-use visual editor is included. You can design a menu interface in many ways and you can re-use previous created menus very easily.

You can also password protect and encrypt files on a CD, DVD and USB flash drive with the tool. Both applications and documents can be protected in this way.
SamLogic Visual Installer 11.5.7
SamLogic Visual Installer is an easy-to-use setup tool that creates a setup wizard in minutes. Via the setup wizard your end-user can install your files in his/her computer effortlessly.