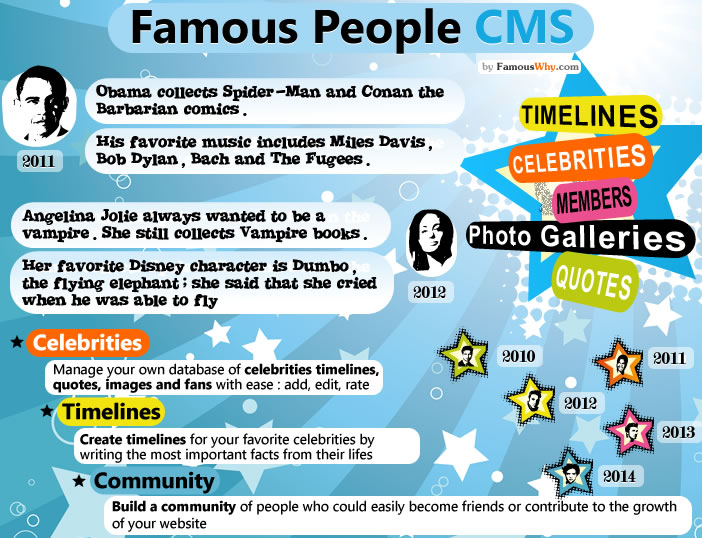 Famous People CMS is a must have in matters of content management systems! It is a wonderful platform for managing your very own database of celebrities. Do you have data about celebrities that you would like to store, sort, look through and so forth? Do you get frustrated by how difficult it is to handle that information without a proper content management system? Well, Famous People CMS is the ideal choice for you. It allows you to add, edit and even rate your celebrity information with great ease (timelines, short facts, photos, quotes, fans and so on).

Every single one of us has one or more celebrities that we are interested in more than the `average Joe`. Some are quite obsessed with certain famous people and keep track of their life, events, movies songs and so forth. Wouldn't it be great to be able to create and manage your own timelines for celebrities? Famous People CMS gives you this opportunity and makes your hobby more enjoyable.

Famous People CMS is highly search engine optimized, and together with the design which comes with modern and stylish pages, will attract more visitors.

Famous People CMS is available at http://people.famouswhy.com
Celeb Faces 1.1
Celeb Faces Font is is dedicated to some of the most famous people in the world, each letter corresponding to a specific celebrity starting with that letter.
Famous Quotes CMS 1.01
This is your complete solution to organize and share your favorite quotes with friends and family.