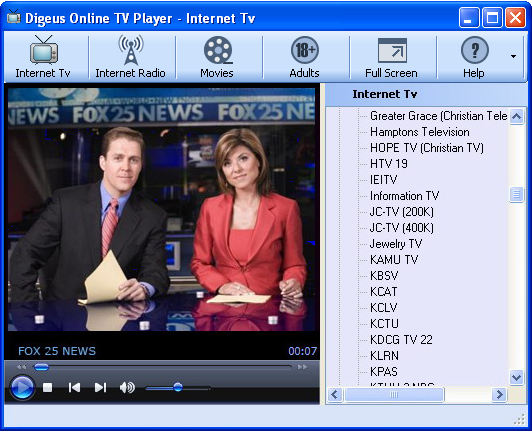 Digeus Online TV Player is the best available software online today to watch thousands of satellite movies and listen to radio channels from all over the globe. You don?t need a satellite dish, receiver, or any cable or satellite service! All you need is an internet connection and a computer.
Watch local TV, world Tv, Live TV, satellite TV from countries of all over the world in different languages on your PC with Digeus Online TV Player not just at home, but at the office, work or wireless. Watch anywhere you have your internet Online. Get immediate access to thousands of free streaming Internet TV channels, Online Radios.
We include the widest available variety of genres: music, sports, news, comedy, romance, live shows, erotic cinema, adults, action, novels, series.... you, always, will be able to find a station or channel according to your state of spirit.
Watch all these channels anywhere in the world. More than 100,000 users are already enjoying the incredible variety.
Top features:
- 100% Legal ? Guaranteed!
- No extra Hardware or TV Card required
- Thousands of FREE TV Stations
- Thousands of FREE TV Shows, Movies, Songs, Music and MP3s
- Thousands of FREE RADIO Stations
- Very easy to use - no PC knowledge required
- Works anywhere in the world
- More than one million satisfied users
- No Popups. No Spyware. No Malware. No Viruses.

You are moments away from watching over 3,000 stations on your computer or laptop from anywhere in the world!
Digeus Duplicate Files Finder 9.2
Slow Computer? Crashed Again? Get Faster Performance! Eliminate unnecessary duplicate files, recover critical hard disk space, and accelerate computer performance. Digeus Duplicate Files Finder eliminates duplicate files and increases the free disk.
Digeus Junk Files Cleaner 6.4
How many junk files does your computer have? Run a free scan now. Two minutes of scan and you will be amazed at how many junk files you have that take up valuable disk. Free up valuable space on your hard drive.
Digeus Registry Cleaner 5.5
Digeus Registry Cleaner is a PC maintenance and recovery tool that eliminates system error messages, slow startup and shutdown speed, programs instability and computer crashes.
Jet Email Extractor 6.4
Want to extract thousands emails? Try Email Extractor for FREE!
SnapIt Screen Capture 3.7
SnapIt is easy to use screen capture software which allows you to easily capture anything on the screen including windows, menus, full screen, rectangular regions, web pages and take shots of moving images.
System Optimizer 7.3
Clean your system of Junk Files, Bad Registry Entries, Duplicate Files, your Internet History and other personal traces. Boosts PC performance. All-In-One System Optimizer suit. Run a FREE scan!