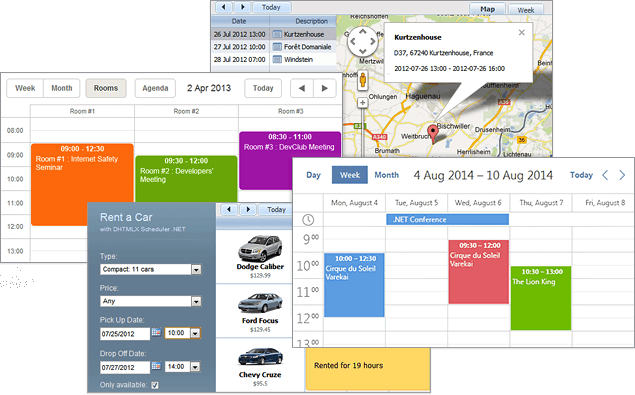 DHTMLX Scheduler .NET for ASP.NET is a highly customizable Ajax-powered calendar control that allows quick adding of a user-friendly scheduling interface, similar to MS Outlook or Google Calendar, to your ASP.NET apps. It allows creating rich web event calendars, task managers, job schedulers, booking calendars and car rentals in the shortest possible time.

The recent update is featured by the possibility to display multiple days in units view, 'days' mode in timeline view and API updates.

Other features include: convenient drag-and-drop, multiple views (day/week/month/year/agenda/timeline/grid/multi-day/multiple resource), flexible time scales, hiding time units, touch screen support, live update, recurring events functionality, jQuery validation of user inputs, time zone conversion, trendy 'flat' skin, multisection events in multiple resource view, resizable events in month view, dragging events between multiple schedulers (Scheduler PRO), and more. Integration with Google Maps provides map display of your event location as well as choosing the required location right on the map. With Scheduler .NET you can export data to PDF/iCal/Outlook and Google Calendar. Multi-page export is available. Quick navigation through days, months and years is possible due to the date-picker (popup or placed next to the calendar). You can use tooltips to display event details when you hover over an event without opening an event detail form. You can use four skins - modern glossy, classic, terrace and flat; or use an online skin builder to customize the colors of the modern and classic skins. The event calendar interface can be localized to 25+ languages. Ready samples in MVC3/MVC4/MVC5 Razor, VB.NET and ASP.NET are available. Scheduler.NET is distributed under Commercial/Enterprise license. Scheduler Standard and Scheduler PRO Editions are available. Scheduler PRO allows creating multiple schedulers on a page. Free trial period is 30 days.
| | |
| --- | --- |
| Requirements: | .NET Framework 3.5+ |
| Languages: | English, Arabic, Byelorussian, Catalan, Chinese, Czech, Danish, Dutch, Finnish, French, German, Greek, Hebrew, Hungarian, Indonesian, Italian, Japanese, Norwegian, Polish, Portuguese, Romanian, Russian, Slovak, Slovenian, Spanish, Swedish, Turkish, Ukrainian |
| Release Info: | New Release on Mar 19, 2015 |
| Release Notes: | displaying multiple days in units view (\'week units\'), \'days\' mode in timeline view and API updates. |
| Related Tags: | net scheduler asp.net scheduler asp.net calendar net calendar ajax calendar event calendar scheduling mvc mvc3 razor mvc4 razor mvc5 booking vb.net scheduler control dhtmlx scheduler events in calendar date and time calendar example |
DHTMLX JavaPlanner 1.5
DHTMLX JavaPlanner is a rich Ajax-powered web control for Java. It allows creating full-featured attractive event and booking calendars, time planners, job schedulers and task managers in Java.