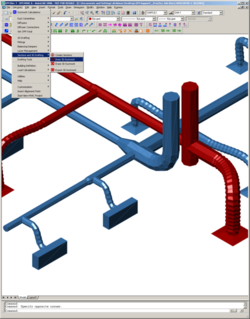 Design Master HVAC is an integrated HVAC building design and drafting program that runs on top of AutoCAD.

Drafting features include single-line and double-line 2D ductwork with automatic fittings and 3D ductwork.

Duct sizing calculations include constant pressure drop, constant velocity, and static regain. Pressure drop in the duct system can also be calculated.

Building load calculations are done using the ASHRAE CLTD method and compare favorable with other loads programs such as Elite CHVAC, Carrier HAP, Trane Trace, and Carmel Loadsoft.
Design Master Electrical 7
Design Master Electrical is an integrated electrical building design and drafting program for AutoCAD. Features include panel schedule, circuiting, feeder sizing, fault current calculations, voltage drop calculations, and photometrics.