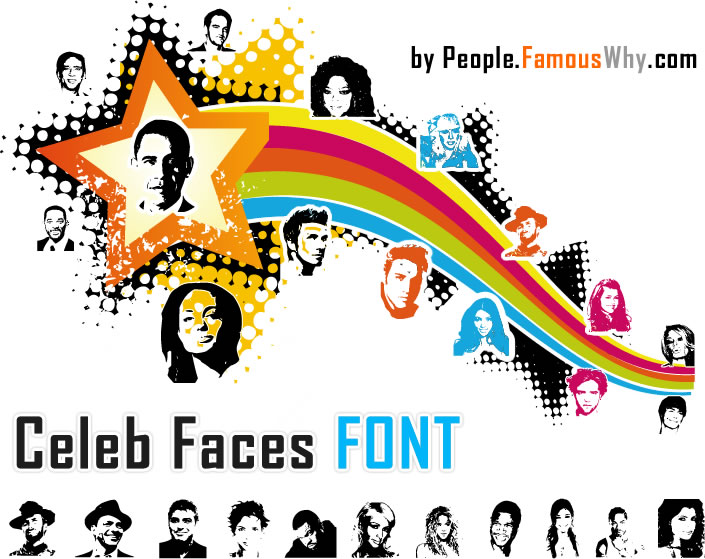 Do you love celebrities? Do you write about them quite often? Do you own a celebrity blog, website or are simply curious about what celebrities do? It is time to make your celebrity writings more attractive, thanks to Celeb Faces font designed by Famous People at http://People.FamousWhy.Com.

Each letter corresponds to the name of a celebrity. For example, the letter 'A' stands for the face of Angelina Jolie, 'K' for Kim Kardashian and 'P' for Paris Hilton. All total, there are 52 characters in the font with support for lower case and upper case. So you do not need to worry about switching cases. The font is designed to print the face of your favourite celebrities regardless of whether you type their initials in small letters or capital letters.

As the English alphabet consists of 26 letters, the font includes the faces of 26 different celebrities, both historical and of modern times. While there are faces of iconic musicians like Elvis Presley and Frank Sinatra there are also faces of modern-day young celebrities like Vanessa Hudgens and Zac Efron in the font.
Celeb Faces font is, thus, a treat for celebrity lovers and helps in printing faces of their favourite celebrites very easily. The font is available in a Zip archive that can be downloaded, extracted and copied to default fonts folder for installation.

The font is ideal for use in designing graphic materials related to celebrities, like banners, wallpapers, icons, web-page backgrounds, buttons or any other graphic elements. It can also be used for posting in forums or writing in blogs and websites as the font is built in Basic Latin unicode block that is widely supported across operating systems and browsers.

So next time you want to type the faces of celebrities like Angelina Jolie, Barack Obama, Shakira, Nicolas Cage, Will Smith, Halle Berry, Oprah Winfrey, David Beckham and others, look no further than our Celeb Faces font.

The official page for this font is : http://download.famouswhy.com/celeb_faces/
Famous People CMS 1.01
Famous People CMS is a must have in matters of content management systems! It is a wonderful platform for managing your very own database of celebrities. Do you have data about celebrities that you would like to store, sort, look through and so forth? Do you get frustrated by how difficult it is to handle that information without a proper content management system? Well, Famous People CMS is the ideal choice for you.
Famous Quotes CMS 1.01
This is your complete solution to organize and share your favorite quotes with friends and family.